Dato
24/05/2019

Tid
20:30 - 23:59
Lokation
Gyngen
Genre
Pris Gratis entré (Free entrance)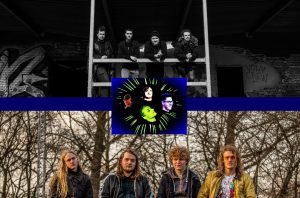 En aften med hele 3 bands på Gyngen!
Indecent Silence
Er du en af dem som undrer sig over om rock genre'en er død, eller er du ligesom os og ved at den stadig lever?
Indecent Silence er fire mænd fra Aarhus, som skruer op for energien, passionen og volumen – og vi leverer en oplevelse hvor der sparkes røv indenfor den hårde rock genre. Hvis Metallica og Foo Fighters fik et barn, vil det være Indecent Silence.
Hold dig ikke tilbage fordi vores attitude er højt skrigende guitarlir, groovy basgange, melodisk og skrigende sang, samt kæmpe store trommer på scenen. Vi vil gerne have dig til at synge med til den fedeste rock koncert, hvor vi udfordrer vores musikalske grænser og vores talent!
Ricky Randall & The Randy Ranch Hands
Et band bestående af 4 mænd fra Aarhus, som har spillet meget sammen i skoletiden har besluttet sig for at komme frem på scenen igen. Med kendte numre som er nemme at synge med på, bliver der spillet en masse i rock genren som grunge, alternativ rock og metal. Inspirationer fra Nirvanas og Metallicas sceneshow gør Ricky Randall & The Randy Ranch Hands til en uforglemmelig koncert med store riffs, simpel men fast bas, og skrigende samt catchy melodier. Gør dig klar til et brag af en aften, når Ricky går i gang med at synge, vil du ikke kunne modstå at synge med!
Sushi Sunshine
Sushi Sunshine er et alternativt rockband fra Aarhusomegnen bestående af fire friske fyre i starten af 20'erne. Bandets medlemmer har gennem flere år spillet tæt sammen på tværs af flere musikalske projekter inden de formede Sushi Sunshine, som er et resultat af en fælles kærlighed for hoftesvingende rytmer, legende riffs og forførende melodier inspireret af bands som Queens of the Stone Age, Arctic Monkeys og Band of Skulls. Med sit farverige lydbillede der låner genretræk fra blandt andet hardrock, garagerock og post-punk byder bandet på kinddans og flyvespark i et melodisk rum med plads til lidt af hvert.
Entré: GRATIS
Klik her for at gå til Facebookbegivenheden
An evening with 3 whole bands at Gyngen!
Indecent Silence
Are you someone who wonders if the rock genre is dead or are you like us and know it's still alive?
Indecent Silence is four men from Aarhus who turn up the energy, passion, and volume – and we deliver an experience that kicks ass within the hard rock genre. If Metallica and Foo Fighters had a kid, it would be Indecent Silence.
Don't hold back because our attitude is loud shrieking guitar, groovy bass lines, melodic and shrieking songs, as well as huge drums on the stage. We would like to have you sing along to the greatest rock concert where we challenge our musical limits and our talent!
Ricky Randall & The Randy Ranch Hands
A band consisting of 4 men from Aarhus who have played together a lot during school and have decided to get back on stage. With famous songs that are easy to sing along to, there will be played lots within the rock genres grunge, alternative rock, and metal. The inspirations from Nirvana and Metallica's stage show make Ricky Randall & The Randy Ranch Hands an unforgettable concert with great riffs, simple but firm bass, and shrieking as well as catchy melodies. Get ready for a great evening. When Ricky starts singing, you won't be able to resist singing along!
Sushi Sunshine
Sushi Sunshine is an alternative rock band from the Aarhus region consisting of four perky guys in their early 20s. The band's members have played closely together over several years across multiple musical projects before they formed Sushi Sunshine which is a result of a mutual love for hip swaying rhythms, playful riffs, and seductive melodies inspired by bands such as Queens of the Stone Age, Arctic Monkeys, and Band of Skulls. With its colorful sound that borrows genre traits from hard rock, garage rock, and post-punk, the band offers slow dance and kicks in a melodious space with room for a bit of everything.
Entrance fee: FREE
Click here to go to the Facebook event