Dato
01/09/2018

Tid
20:30
Lokation
Gyngen
Genre Folkemusik
Pris 70 kr.
https://billetto.dk/e/vingefang-huldrelokk-billetter-304594
Med udgangspunkt i deres stemmer har Vingefang skabt et repertoire der spænder fra nordiske klange, over stemningsfulde franske viser, til brasilianske rytmer. Heri blander sig violin, bratsch, klaver, guitar og percussion, og de unge musikere skaber med enkle virkemidler og stor spilleglæde et univers med levende billeder fra deres rejser og oplevelser.
With focus on their voices, Vingefang has created a repertoire that spreads from the Nordic sounds, over moody French lullabies, to Brazilian rhythms. Here is violin, viola, piano, guitar, and percussion mixed together and the young musicians create a universe with moving pictures from their journeys and experiences with help of simple tools and a big joy for playing.
"Vingefang bring a clarity to their music that seems to demand the word "delightful." Whether it is their own compositions or a journey through the music of France, Denmark, Sweden and Brazil, they make it all their own!" – World Roots
Miriam Ariana – violin, bratsch, sang, percussion (violin, viola, song, percussion)
Lene Høst – sang, guitar, klaver, percussion (song, guitar, piano, percussion)
Lejlighedsvis udvides der til trio med cellisten Maja Freese.
Occasionally, the trio is expanded with the cellist Maja Freese.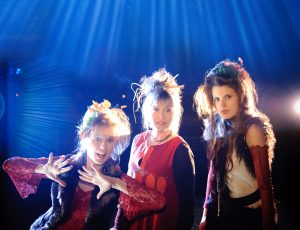 Huldrelokkk er en skandinavisk folk-trio som siden 2009 har turneret i Tyskland, Norge, Sverige, Danmark og Østrig.
Trioens musik består af traditionel folkemusik og ballader/viser fra Sverige, Norge og Danmark såvel som egne kompositioner. Trioen har udmærket sig ved deres tre-stemmig sang, deres ekvilibrisme og power på scenen!
De har udgivet "Trolldans" i 2011 og "I Levende Live" i 2015.
Huldrelokkk is a Scandinavian folk trio that has toured in Germany, Norway, Sweden, Denmark, and Austria since 2009.
The trio's music consists of traditional folk music and ballads/lullabies from Sweden, Norway, and Denmark as well as their own compositions. The trio has excelled themselves with their three-part song, their equilibrium, and their power on stage!
They have released "Trolldans" in 2011 and "I Levende Live" in 2015.
"Grooving folk guitar, dynamic fiddles and powerful harmony vocals in different Nordic languages… one of the freshest sounds to appear on the Nordic folk horizon." –
Lira, Sweden 2011

Kerstin Blodig (NO/G), sang, guitar og bodhran (song, guitar, and bodhran)
Mia Gunberg Ådin (SWE), sang, violin, nykkelharpa (song, violin, nyckelharpa)
Liv Vester Larsen (DK), sang, violin og percussion (song, violin, and percussion)